| Program Benefit | Level 2 ESA (ESA2/ESA2M) |
| --- | --- |
| Service Agreement | 2 Visit Per Year |
| Benefits and Discounts | 12 Months |
| Comprehensive Checklist and Report | |
| No Hassle Schedule—We'll Call to Remind You | |
| Diagnostic After First Visit | Waived when repair is completed. |
| Discount on Repairs* | 10% |
| Customer Status* | Same Day |
| After-Hours Fee* | $60 |
| Parts and Labor Warranty on Repairs | 2 Years |
| Complies With Manfacturer's Warranty Terms | |
| First System | $20 Plus Tax Per Month |
| Additional Systems | $12 Per System Per Month |
*Plan benefits, discounts, and warranties require homeowner to maintain ESA customer status for the duration of the term described. Warranties do not include refrigerant. If repairs are not approved as the original time of service, homeowner may forfeit any applicable discounts including special repair pricing, reduced or discounted after-hours fees and waiver of the diagnostic fee as stated above. Although ESA customers are always our top priority regardless of weather conditions, during our peak season there is no way to predict how long it will take our technicians to get from one call to the next. With that in mind, same day service can only be guaranteed at no additional charge if a request for service is placed before 10 a.m. on the day of service. If the call is placed after 10 a.m. Monday-Friday or anytime Saturday or Sunday, regular overtime charges MAY apply for same day after hours service.
Commercial Maintenance Agreements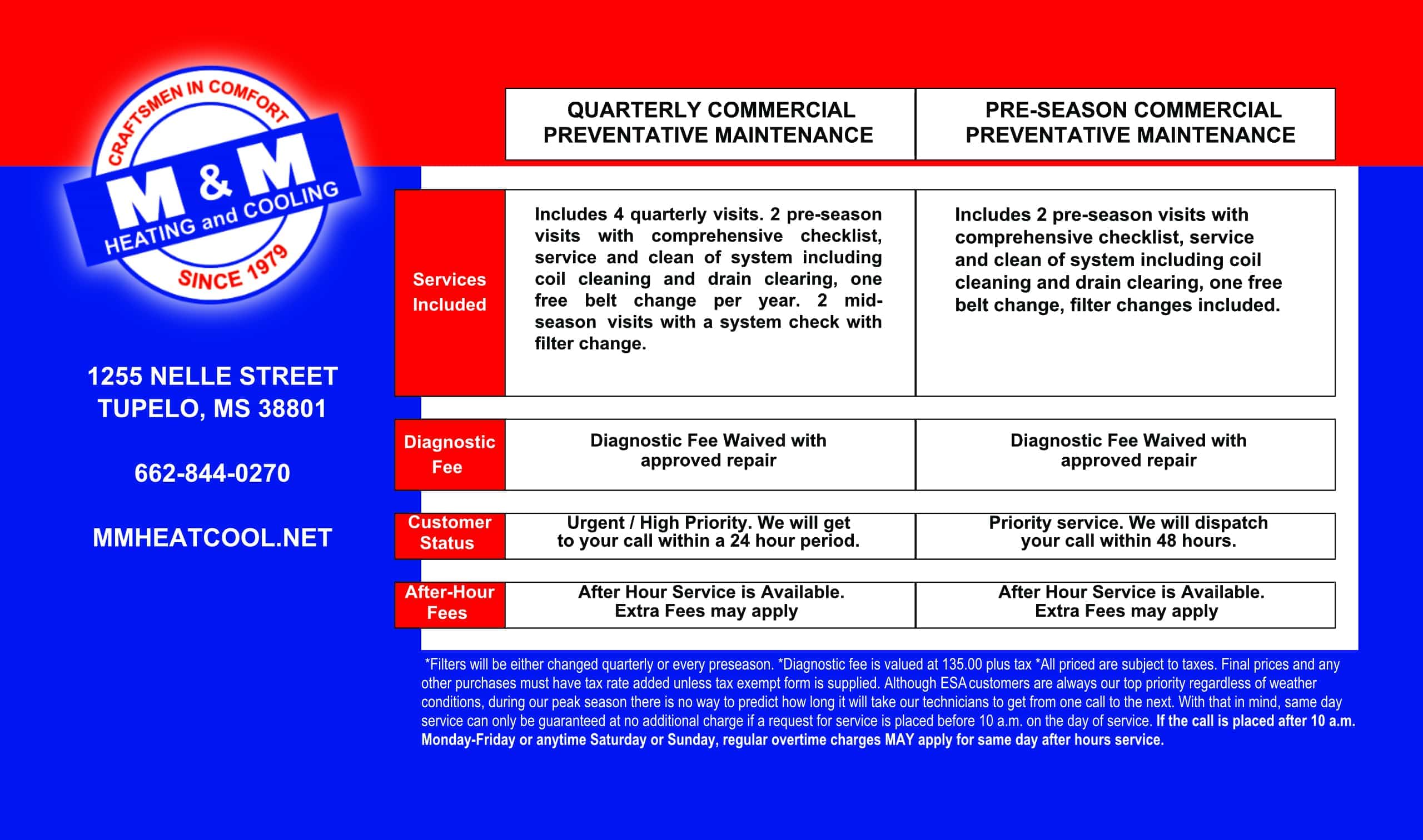 Owning, or even sometimes renting, a home in Mooreville, MS, requires general maintenance to keep your investment in working order. It's really all about being prepared. Per Benjamin Franklin, "An ounce of prevention is worth a pound of cure." Maintaining your home's systems and appliances wards off emergency situations and costly repairs while extending your equipment's life. Take the time and money to perform general maintenance on a regular basis. Many of the maintenance services require the knowledge, skills, and tools of a professional. During the maintenance or service call, our technician will make any necessary repairs and/or alert you of a possible situation. Call M & M Heating and Cooling to assist you in maintaining any of the following or to answer any questions you may have:
Furnace and Boiler Maintenance
For furnaces and boilers, an annual service tune-up and cleaning is recommended, usually performed in the fall. The purpose is to keep your system running at top efficiency throughout the season, i.e., to keep you having heat when you need it. Our technician will check and clean (depending on whether you have a furnace or boiler) all the connections, controls, sensors, drains, igniter, ducts, pipes, burners, valves, motors, thermostat(s), and smoke/carbon-monoxide detectors, and instruct you on anything you could do between our service visits. As a rule of thumb, furnace filters need to be changed every three months or as needed, which is something you can do yourself with the correct filters.
Air Conditioner Maintenance
For air conditioners, an annual service tune-up and cleaning is recommended, usually performed in the spring. Our professional technician will check and clean the connections, coils, blower components, lines, refrigerant, drain, fuses, and thermostat(s), as well as lubricate all working parts. Maintenance you can do yourself between service visits is to remove any yard debris or vegetation from the top and sides of your outdoor air conditioner unit, as well as to keep it covered with an air conditioner cover or tarp in the winter.
Heat Pump Maintenance
For heat pumps, an annual service tune-up and cleaning is recommended, usually performed in the fall, same as furnaces and boilers. Our professional technician will check and clean ducts, filters, blower, indoor coil, ducts, refrigerant, electric terminals, connections, motors, and belts, as well as lubricate all working parts. Be sure to change or clean the filter every three months or as needed. You can also clean the outdoor coils whenever they seem dirty, and keep yard debris and vegetation away from the unit.
Whole-House Humidifier Maintenance
For whole-house humidifiers, an annual service tune-up and cleaning is recommended, usually performed at the same time as your furnace tune-up and cleaning. Our professionals include this maintenance along with the furnace appointment. Typically there isn't much in the way of maintenance; however, our technician will change your humidifier pad and clean any mineral buildup you may have (in the case of hard water). Ask our technician to show you how to dissolve the buildup on your own every few months to keep your humidifier working at top efficiency.
Air-Filtration System Maintenance
For air-filtration systems, regular maintenance is something your can perform on your own. Maintenance on an air-filtration system usually just means changing or cleaning the filter every three to nine months. But you should check with the manufacturer's specific recommendations. Changing or cleaning your filter on a regular basis will ensure the best filtration for your home as well as extend the life of the system. If you need any assistance or would like to install an air-filtration system, feel free to talk with one of our professionals at M & M Heating and Cooling.
At M & M Heating and Cooling, we're here to to assist you in maintaining your home's systems or to answer any of your questions about maintenance. Keeping your equipment in good working order allows you peace of mind to know they'll be there when you need them. It also makes good financial sense to keep equipment serviced to help extend their life spans. Here in Mooreville, MS, call us at M & M Heating and Cooling to make an appointment now.