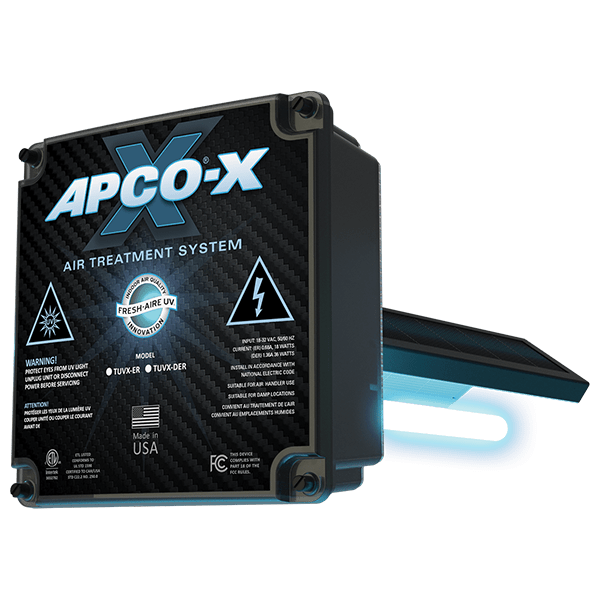 APCO-X®
Introducing our most advanced whole-house air treatment system yet. APCO-X is the result of ten years of APCO development. It will revolutionize indoor air quality with significantly improved performance, functionality, and reliability.
33% more effective than previous model in laboratory tests
V-Twin element with over 65% more effective carbon surface area
EverCarbon™ cells with proprietary antimicrobial nanotechnology
LED status and lamp fault indicator
Translucent polycarbonate housing
Face-plate rotates for vertical or horizontal installation
Validated Ozone Free
Fresh-Aire UV APCO is the first UV/PCO based air purification product line to achieve the UL environmental claim validation (UL-2998) which identifies air purification systems that emits zero ozone. They are then listed in the UL SPOT database of sustainable products.
Complete IAQ Solution
APCO® whole-house air treatment systems detox the air as it is circulated by the HVAC system. They feature a unique combination of UV-C light and activated carbon which achieves unmatched microbial and odor reduction without producing any harmful ozone.
APCO-X can be combined with Freshaire UV's Purity Low Profile polarized electronic filter system for a complete and comprehensive indoor air quality solution.
VOC Chemical vapors and odor
Mold, bacteria, viruses, and allergens
Particulates, dust, pet dander, spores, dust mites etc.
APCO® is proven to safely reduce both VOCs and biological contaminants inside the air system and throughout the home. We carry a full line of Fresh-Aire UV Products. Contact us for more information about what's best for your home or business.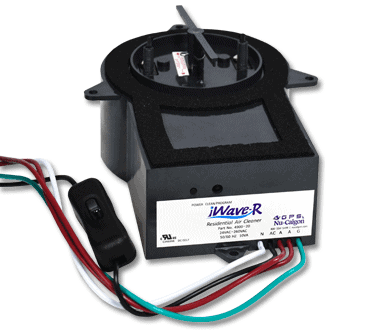 iWave-R
With technology installed in over 100,000 applications, iWave-R is the world's first self-cleaning, no maintenance needlepoint bi-polar ionization generator designed specifically for treating air in residential duct A/C systems. As the air flows past the iWave-R, positive and negative ions actively purify the supply air, killing mold, bacteria and viruses in the coil and living space. The ionization process also reduces allergens, smoke and static electricity, as well as controlling odors (cooking, pet, VOCs) and other particles (no more sunbeams) in the air without creating ozone or any harmful byproducts.
iWave-R treats the air in any brand of residential duct air conditioning systems up to 6 tons (2400 CFM) in size with no maintenance and no replacement parts. Designed for universal mounting, the iWave-R typically installs inside or outside of duct, or it attaches magnetically near the indoor fan in the air handler. iWave-R always works at peak performance, producing over 160 million ions/cc, more than any other ionizer product on the market. Its patent-pending self-cleaning design includes a programmable cleaning cycle that can clean the emitter brushes every 1, 3, 5 or 10 days. The iWave-R is factory set to clean every third day, which is adequate for a typical installation. iWave-R does not create "black walls" as negative-only ionizer products will do.
Patent-pending self-cleaning design ensures ongoing peak performance

Needle point ionization actively treats air in the living space

For duct systems up to 6 tons (2400 CFM)

Universal voltage input - 24VAC to 240VAC!

Universal mounting with magnets

Flexible design with no replacement parts

Kills mold, bacteria and viruses

Reduces allergens, odors, smoke, static electricity and other airborne particles

Keeps coil cleaner

Programmable cleaning cycle

Alarm contact option for secondary notification

UL and cUL approved

Three-year warranty*
*Nu-Calgon offers a three-year limited warranty on iWave products. For a valid warranty claim within three years, proof of purchase and proof of installation by a licensed HVAC or electrical contractor must be provided. See full warranty for complete details.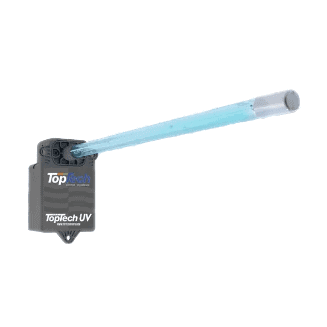 TechPure Germicidal UV light
Installed in new or existing HVAC systems, UVC lamps keep HVAC coils and drain pans clean, reducing energy consumption and costly cleaning programs.  UV Emitters improve HVAC environmental hygiene, making a vital contribution to indoor air quality.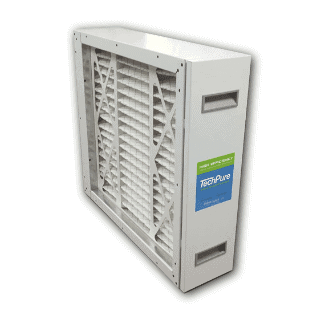 Techpure whole house air cleaner
HIGH EFFICIENCY: Breathe easy with the TechPure Filter Cabinet. Used in conjunction with the Air Knight IPG unit, testing shows an efficiency increase of an additional 10%. Use a TechPure Filter Cabinet and protect your family and home from airborne particulates, allergens, dust, and dander.